How to Achieve Record Success & Happiness!
Learn how to achieve incredible success through mindfulness, focus, perseverance and joy! Discover how following your heart, and loving your family lead to world record performance!
Listen to the podcast below!
At 5'4″ and only 104 pounds, no one knew quite what to expect as 41-year-old Deena Kastor lined up for the 2014 Philadelphia Rock 'N' Roll Half-Marathon.
An Olympic bronze medalist and American record holder for the marathon, she'd recently set two American master's records on her way to victory at the Dallas Rock 'N' Roll Half Marathon.
For this race, her goal was even larger; she was eyeing a world-record. As she lined up, she had nervous butterflies, or what she calls "excitement," a feeling she describes as being completely prepared and ready to get to the task at hand.
Years earlier, feeling supremely prepared for the biggest race of her life, her body broke. Only three miles in at the 2008 Beijing Olympics, a stress fracture took her out of her race.
But that was then.
For most elite runners, 41 is well past retirement, particularly for a mother with a daughter who's now four. But Deena had had a string of successes in recent years and was showing no sign of slowing down.
The gun went off.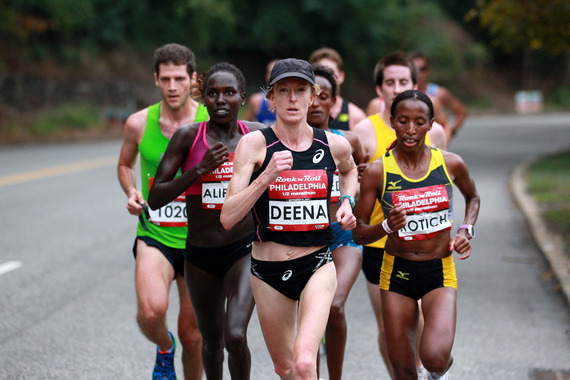 Deena Kastor Leading a World Class Field in the 2014 Philadelphia Rock 'N' Roll Half-Marathon. Photo Credit PhotoRun.net/Competitor Group
Deena did her best to follow her game plan, yet only six miles in, struggled with painful side-stitches, which would return in the last few miles of the race. She says it was touch-and-go, that she thought about giving up, but dug deep and went for it.
It was a race for the record books and she did it! In just 13.1 miles, Deena Castor wiped out 4 world master's records, from the 5 km through the half marathon.
So how'd she do it, and what can we learn from her?
Deena has an amazing attitude, a positivity and sense of gratitude about her that spills over into everything she does. She attributes a large part of her success to her mindfulness, a practice she's used to cultivate her positive attitude and what she calls an "attitude of gratitude" over the years. She says it's not something she was born with but had to work at.
Recently I had the opportunity to sit down with Deena virtually and ask her about her practice. I wanted to understand how her lessons could benefit others. Her attitude was infectious; it was hard not to laugh and smile as she shared the ups and downs of her journey, and how she's stayed positive through it all.
Key Topics:
living a quality, purpose driven life

practicing an attitude of gratitude
how to be positive in any situation
seeing challenges as opportunities
focusing on your passion
the art of continuous improvement
the importance of being excited about life
re-framing situations and turning nervousness into excitement
taking things one baby step at a time
Deena's career is earmarked by her groundbreaking 2004 Olympic Bronze Medal in the marathon in Athens, Greece, which shattered a 20-year medal draught for U.S. women in the event. Yet, the accomplishments of the 3-time Olympian certainly don't stop there. Deena is currently the American Record Holder in the marathon (2:19:36) and half marathon (1:07:34) yet has held American records in a distances from 5K to the marathon. She has made 19 U.S. Teams, won 18 U.S. titles and earned two Silver Medals at the World Cross-Country Championships. She is also an 8-Time NCAA All-American.
Deena's win at the 2005 Chicago Marathon was highlighted in the inspiring documentary, Spirit of the Marathon
. Deena followed that momentum to win the 2006 London marathon which ranked her #1 in the world that year. In 2014 Deena set 5 world masters records in one race during the Philadelphia Rock 'n' Roll Half-Marathon.
Deena has called the town of Mammoth Lakes, CA home for the last 14 years where the altitude of 8,050 feet and simple mountain lifestyle have enhanced her running and allowed all aspects of her life to thrive.
SHOW NOTES:
Deena Kastor Online: Website | Facebook | Twitter | Instagram

Mammoth Track Club: Deena's hometown running club
Other References:
Spirit of the Marathon
: documentary featuring Deena Kastor
Olympic Medalist Deena Kastor Shares 10 Mindfulness Tips for World Record Success, Health & Happiness: Huffington Post article by Michael Sandler
Deena Kastor Breaks U.S. Masters Record at Chicago Marathon (October 10th 2015): Runner's World article
Mindful Running Program: created by Michael Sandler & Jessica Lee
Related Podcasts:
How to be Fearless & Find Greatness (Dean Karnazes, Ultramarathon Man)
Iron Cowboy Completes 50 Ironmans in 50 States in 50 Days (James Lawrence)
Help keep the show going! Every time you shop at Amazon through the link below, we earn a small affiliate commission at no extra cost to you.

Or please consider making a donation through PayPal.
*Note: On your PayPal statement, you will see your donation made to "RunBare Inc." Rest assured, your donation is going to the right place. Thank you!
Thank You for being a part of this amazing movement!
SHINE BRIGHT!
Disclosure: Please note that some of the links above are affiliate links, and at no additional cost to you, we will earn a commission if you decide to make a purchase. Please do not spend any money on these products unless you feel you need them or that they will help you achieve your goals.